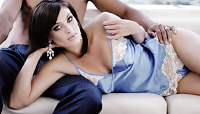 Few lingerie pieces are as alluring on 50+ woman as the graceful sisters: chemise, slip and teddy.

Skimming the body under a skirt or dress, they offer a light layer of femininity without constriction. I would rather wear a well-fitted chemise than a
binding elasticated 'control' garment, which often ends up rolling bits over the item anyway.
Worn under a blouse or glimpsed beneath a sweater, these garments are discreet yet sexy, and need not cost more than your shoes.
Teddies
A teddy was the precursor of the bodysuit, and lives on, appropriate under dresses or any pant ex
cept very tight styles.

Wearable teddies– also known as cami-knickers- are hard to find, but worth the search. Some are cut loosel
y, like a slip
, while o
thers fit as closely as a leotard.



Mary Green Nouv
eau Retro White Silk Teddy is stretch silk and pink lace, with fan bust darts. Sized in S/M/L; from
Mary Green
,

a beloved lingerie designer.




Chemises and slips



A chemise is a short version of the full-leng
th slip; sometimes slip-style nightgowns are also called chemises.
Some are intended solely as sleepwear; read the product description to be sure.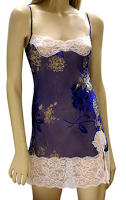 Once you acquire the requisite black or ecru, you might explore a world of colour in chemises.

Also from

Mary Green

, this charming Manon Printed Burnout Satin Chemise with Lace, 70% silk, 30% rayon,cut on the bias. Mary Green's slogan is "Lingerie Conquers All". Will ship internationally, prepare to conquer.