from the blog style observer

Sexy Comfort

I'm all for sexy lingerie, but sometimes I find it a little itchy. I discovered Mary Green a few years ago, and fell in love. The pieces are sexy but also feel nice against your skin. That was what sealed the deal for me. Like any girl, I like to know I have pretty undies on … I just don't want to FEEL them all day long. The Mary Green Collection disappears under your clothing. Love it!

from the blog prettycity.com

The Language of Love

Valentine's Day may be Sunday but she'll feel sexy all week long with these oh-so-pretty undies from Mary Green, a San Francisco based lingerie company whose tagline, "lingerie conquers all," I fully agree with.

The "7 Ways to Say I Love You" set includes seven silk knit panties in a selection of gorgeous hues. Each panty is embroidered with "I Love You" in a different language. Get the set for $123 at MaryGreen.com.



Sleep masks are my key to a good night's sleep and when I recently saw Kim Kardashian rocking this uber cute "

Dreaming of Paris

" mask, I knew I had to have it. Designed by Mary Green, the satin mask retails for $22 and features a luxurious lace trim. You can use this gorgeous mask to get your beauty sleep.... or for other things that happen in your boudoir

from bettyconfidential.com

Loves It: Kim Kardashian's Sleep Mask

It was her favorite Parisian accessory.




Kim and mommy Kris are the ultimate jet-setters. They're always flying somewhere. Racking up all those mile and dealing with international time zones can mess up your sleep cycle, your smile and your skin.

They both know that the secret to looking good is a good night's rest. On their flight to Paris, mommy and daughter grabbed Mary Green's Dreaming of Paris silk satin sleep mask ($22, marygreen.com) for their chic cat nap.

The next time you're going to catch 40 winks, try Dreaming of Paris. Sleep masks aren't only retro-cute, but they really do block out the light.
from the fashionmagpie.com
Home Spa Day. It's been, like, a bajillion and three years since I unwound my tense little self at the spa. I don't think a day of self-pampering is in the cards at the moment — hard to justify when Mr. Magpie hasn't yet found out how much I spent on his graduation party (he graduates from his MBA program in just a few short hours!), and I'm not looking forward to breaking the news to him. (But he deserves it!) So instead I'll create the spa day at home. I'll begin by sleeping in (ha, never happens — when I turned 26, I suddenly found it impossible to sleep in past 8 a.m., and I've now begun an alarming trend where I'll occasionally rise with the sun at, like, 5 am, to
get my day started…sick). Maybe blocking out the sun with this cute little eye mask ($24.50,
MaryGreen
— the designer behind
the famous sleep mask that Audrey Hepburn wore in "Breakfast at Tiffany's"
…but that mask terrifies me a little bit…):

from blog Lifetime Moms
I am not someone who loves practical gifts. Please don't give me socks, undies, or a vacuum cleaner for Christmas (even if it IS that really cool Dyson ball vacuum that I've been drooling over for years). Nope. As the slightly-sleazy office secretary says in Love Actually (my favorite Holiday movie!) "I don't want something I need - I want something I WANT." Of course, what do I want this holiday season? I want what every mom wants - a break and some pampering!
With that, I've highlighted the top 10 gifts that you should consider wrapping for mom and putting under the tree. Trust me, the gift of taking care of ourselves and pampering never goes without lots of thanks.
Presents Palooza! Over 100 Gifts For Under $100


Think finding a fab present for the holidays is nothing short of a miracle? Put the breaks on stress because we've got it all. Head over to our Boutiques
Presents Palooza!
where we've got the ultimate gift guides for him and her, with a smattering of prezzies for that one friend that's oh-so-hard to shop for. Think: forgoing lines that stretch for eons, screaming kids, and swollen feet from too many futile trips down the aisles. So, whether you're looking for a luxurious
mink necklace
or a
cupcake-shaped compact mirror
, with $150, $100, and $50 and under rundowns, we pride ourselves on a list of gifts that, frankly, puts the ease in appease
.
Clockwise, from top left: Mary Green Embroidered Sleeping Masks, $25 each, available at
Eskell
;
June 2nd, 2010 | Beauty PR Babe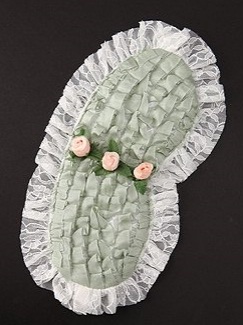 We at Haute PR must have our prized beauty rest, especially in allergy season when we have to deal with enough puffiness already! Never gals to miss an opportunity to look pretty, we love this Mary Green Victorian Sleep Maskfrom Urban Outfitters. It's very delicate and feminine, and reminds us of something our heroine, Blair Waldorf, would wear. You can definitely sleep pretty knowing how gorgeous you look; just make sure not to snore or the uber-femme effect might